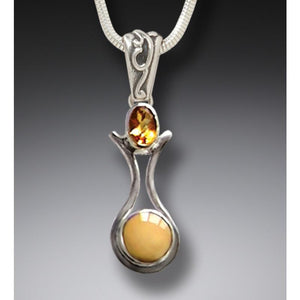 Citrine Drop Amphora Necklace
The amphora—a term coined in the Greek and Roman ages to describe this graceful vessel has long been used to store wine, oils, and other valuable substances. The amphora was more than just a utilitarian vessel, however. It was extensively shaped, decorated, and inlaid, producing gorgeous works of art now housed in museums across the world.
Our citrine drop necklace's evocative silhouette balances its two accents beautifully—an earthy, opaque ancient ivory base and a faceted citrine accent that seems to burst from the amphora's rim. The shape is both representational and symbolic. This amphora necklace can be seen as its vessel's namesake or as two arms offering the sunny citrine to the heavens.
Citrine is a semi-precious stone associated with personal power, abundance, and attraction. Its sparkling facets are a desirable contrast to the fossilized walrus ivory's creamy sheen.
This walrus ivory necklace is made from fossilized walrus tusk, a prized organic material some 500 to 3,000 years old. Fossilized walrus ivory spends many centuries in the earth where it is colored a soft caramel to deep chocolate hue. As no two fossilizing sites are the same, no two pieces of fossilized walrus ivory are identical. Its unique coloring and relative scarcity make this material a sought after treasure for the artists who work with it.
This exquisite amphora necklace highlights our ancient ivory's rich earthen honey tones with a faceted citrine accent to create a gorgeous interplay of color and gleaming sterling silver.
Fossilized walrus ivory base
Faceted round cut citrine top stone
Sterling silver setting
Width 7/16" x Height 1 1/2" (approx)
This pendant comes with an 18" sterling silver 1.1 mm box chain with a lobster clasp. 
Please allow 10 days to 2 weeks for delivery.