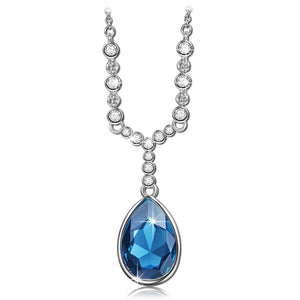 BRAND NEW - LOW QUANTITY IN STOCK - ORDER SOON

 

♥MATERIALS & MEASUREMENTS♥ Deep Blue Swarovski Crystal & Clear Preciosa crystals, Environmentally friendly material Zinc Alloy, Lead-Free & Nickle-Free, passed Swiss SGS Inspection Standard, no harm to health. ◆Length 19 inches, Pendant Length 1.4 inches, Pendant Width 0.9 inch.◆ Comes in a nice gift box.

♥EDITORS' NOTES♥ This magnificent necklace oozes sophistication. The shimmering Swarovski crystal centerpiece is highlighted by a beautiful gradation of Preciosa crystals pavé. Wear this classic piece with the matching earrings to create a truly breathtaking ensemble! •Search "qianse angel tear" to find the whole set.• Perfect gift for wife and mother.

◆ATTENTION◆ This is NOT a Swarovski product but a piece made with Swarovski Crystal. Qianse has its aspiring designers worldwide. We purchased Swarovski Crystals as raw material and skillfully manufactured in our independent workshops.

♥IDEAL GIFT CHOICE♥ Comes in a fine gift box. No wrapping needed. Perfect gift for Mother's Day, Anniversary Day, Valentines Day and Birthday to your girlfriend, wife and mom.

♥QIANSE Designing Philosophy♥ 1. Be brave to pursue the beautiful fairy tale in your heart because it is the privilege of being a woman! 2. Wearing ordinary jewelry, people remember that jewelry. Wearing elegant jewelry, people remember the woman who wears that jewelry.
Top French Brand - Partner of Swarovski Elements
QIANSE®, a France registered jewelry brand, is entitled to purchase authentic Swarovski crystals, design jewelry and use Swarovski Elements trademark in the packaging and promotion of Qianse products. Every year, QIANSE designers travel around the world 2-3 times to seek inspirations and conduct quarterly researches and new designs.
Your Gift Advisor
QIANSE® is renowned by its classic and playful designs especially popular among gentlemen. They express loves by choosing meaningful QIANSE jewelry as ideal gifts for daughters, mothers, wives, and friends for Christmas Day, Anniversary Day, Valentines Day and Birthday. Every piece represents a beautiful dream and tells the story of a charming lady!
Exquisite Craftsmanship
Qianse® has its own factory with over 10 years professional experience and lots of jewelry technology patents. Owning a factory, we are able to reduce costs and have a better control of quality.
Top Notch After-Sales Service
Stones are inlaid under a microscope by a top-level master. Missing stones sometimes happen as a possibility due to postal delivery. We will be responsible for any product problem! Just contact us and we will assist you in finding a solution promptly!
♥Maintenance Instruction♥
a. Keep it dry and free from sweat.
b. Do not touch it often, grease and sweat on hands will caused corrosion.
c. Rub your Jewelry with baby wipes,they perform miracles on crystal jewelry without damaging the surface, then rub with a clean dry cotton cloth to bring back the shine.
d. Store your Jewelry separately.
Visit Qianse® storefront for more fine Necklaces, Bracelets, Earrings and Jewelry Sets. Search series name to complete the whole set!
Package Dimensions:

3.3 x 2.8 x 1.4 inches

ASIN:

B01GPVG6T6

Item model number:

NAG05581BB