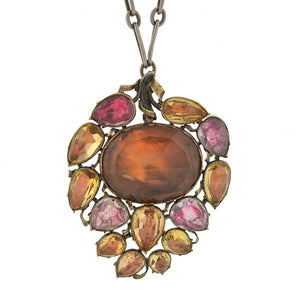 An exquisite foil back crystal necklace from the Georgian (ca1830) period! This spectacular piece is crafted in sterling silver with a partially gilded setting. Hanging from a sterling chain is a stunning pendant, which is comprised of multiple teardrop crystals that surrounded a large oval center, forming a shapely cluster. The crystals vary in size, shape, and color, each of them resting individually in a closed foil backs setting. The gorgeous ensemble of colors includes luscious peach, pink, rose, and champagne colors, and their faceted surface catches the light perfectly! A hidden bail rests on the back of the piece, from which the complimentary chain is perfectly attached. A simple spring ring clasp fastens the chain securely. This magnificent Georgian necklace looks outstanding when worn and would make a unique addition to any collection!
Measurements:
 The necklace measures approximately 19" long. The pendant hangs 2" long and measures 1 1/2" wide and 1/2" at the thickest point.
Condition:
The overall condition of the necklace is excellent. Besides normal surface wear, there is no apparent damage to the silver setting or to any of the foil back crystals, all of which are intact and original to the piece. The chain is in good condition and the clasp is secure and in good working order.