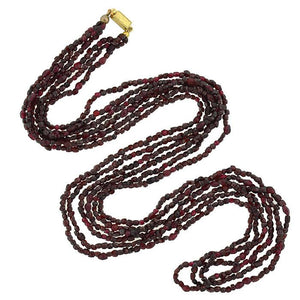 Bohemian garnet jewelry dates back to the 19th century. During this time, garnets were one of the most popular types of stones used in jewelry production. The garnets were often placed close together in an effort to produce a more pronounced color and brightness than when they were set singularly. Most often, bohemian garnet jewelry was set in a closed back setting made of rose gold gilt over silver; this method is sometimes referred to as 'garnet gold'.
A gorgeous Bohemian garnet necklace from the Victorian (ca1880) era! This wonderful piece is comprised of 3 long strands of garnet beads, which join together at a vibrant 14kt yellow gold clasp at the back. The garnet beads display a luscious, deep red color and have a faceted surface, catching the light beautifully when worn. Each individual bead varies in size and shape, giving an organic feel and appearance to the design. The necklace slips easily on and off overhead and hangs long, but can also be doubled if desired, creating a lovely 6-strand design that drapes at the collarbone. It's a beautiful accessory that would compliment any collection, and is perfect for the garnet lover!
Measurements: The necklace measures approximately 35" long when fully extended. 

Condition: The overall condition of the piece is excellent. Besides normal surface wear, there is no apparent damage to the garnet beads, all of which are intact and securely strung. The gold clasp is secure and in good working condition.