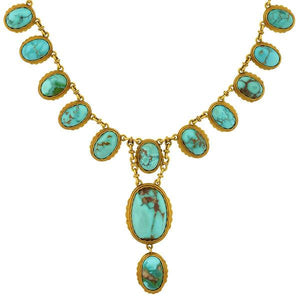 An outstanding turquoise necklace from the Victorian (ca1880) era! This magnificent piece is crafted in 15kt gold (indicating English origin). It features 26 natural turquoise stones that drape along the neckline in a festoon style. Hanging from the middle is a large turquoise centerpiece that forms a drop design, dangling freely at the center. Each turquoise stone is individually bezel set in vibrant yellow gold, forming a striking chain with gold wrapped wire connectors. The turquoise stones display a brilliant range of colors in saturated shades of sea green and robin's egg blue. Natural mineral spider webbing  (known as "matrix") can be found throughout throughout, giving a marbled appearance to each stone. The necklace fastens with a simple push clasp in the back, which is disguised within the final turquoise link. When worn, the piece rests dramatically just above the collarbone, making a significant statement piece. A breathtaking Victorian beauty, this necklace is perfect for the turquoise lover and would make an impressive addition to any antique jewelry collection!
Measurements: The necklace measures 14" long, with the drop strand hanging 2 3/8" at the center. The largest turquoise link at the center measures 1" tall, 3/4" wide, and 1/4" thick. The smallest turquoise link measures 1/2" tall, 3/8" wide, and 3/16" thick.
Condition: The overall condition of the necklace is excellent. Besides normal surface wear, there is no apparent damage to the gold setting or to any of the turquoise stones, all of which are intact and securely set. The clasp fastens securely and is in good working condition.