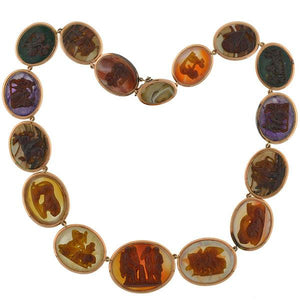 A magnificent and very rare cameo agate necklace from the Victorian (ca1880) era! This wonderful piece is set in 15kt rose gold (indicating English origin) and is comprised of 16 multi agate links in bezel settings. A tortoise shell cameo rests atop each agate link, which is a very unusual combination of materials for cameo jewelry, making this piece a special find! Each cameo image is unique and highly detailed, depicting intricately hand-carved motifs that appear to be Grecian in origin. There are multiple links that feature animals and mythological beasts, including a Pegasus, exotic cats, several majestic lions, a moth, and common livestock including a goat and an ox. While some of the images are simply portrait style depictions of an animal, other cameos represent scenes, wherein several Grecian figures or cherubs confer with each other, or interact with the animals and other creatures. The tortoise shell has a rich, translucent caramel color that pairs beautifully with the collection of stones. Included in the ensemble are a variety of agates, two forest green bloodstones, and two amethyst links. The necklace is graduated with the largest links in the center, and the piece fastens together with a push clasp disguised within a smooth agate link at the back. A gold safety chain provides extra security. The necklace comes in its original custom box with a cream-colored satin and velvet interior. Stamped on the inside of the lid is the picture of a boar surrounded by the words: "At the Blue Boar Within Aldgate • 1720 • HARVEY & GORE, 1, Vigo Street, London, w." A very unusual piece, this necklace is truly a work of art and it makes a spectacular statement piece. It would make a an outstanding addition to any collection!
Measurements: The necklace measures approximately 18.5" long. The largest cameo link in the center 1 1/2" wide, 1 1/8" tall, and 3/8" thick. The smallest cameo links at the back measure approximately 1" wide, 3/4" tall, and 1/4" thick.

Condition: The overall condition of the necklace is excellent. Besides normal surface wear, there is no apparent damage to the rose gold setting, and and all of the agate cameo links are intact with very minimal surface wear. There are no apparent chips or scratches to either the agate stones or to the carved tortoise shell cameo images. The push clasp and safety chain are both secure and in good working condition. The original box shows normal signs of surface wear commensurate with age, but is in good condition and fastens shut securely.