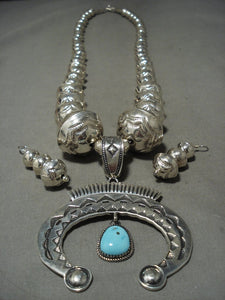 This is an astonishing Navajo Native American jewelry Native American jewelry silver and turquoise necklace set with beautiful matching earrings. This set was handmade by the very famous artist, Mary Calladito. The necklace contains an outstanding naja silver pendant that measures around 3-3/8" X 2-1/2" including the large silver bail. Dangling from the center of the naja is a wonderful blue turquoise stone. The beads on this necklace beautifully graduate in size towards the bottom with the largest one measuring around 1-1/4" in diameter. The earrings match the necklace and measure around 1-3/8" long. Sterling silver, marked. Signed by Navajo Native American jewelry Native American jewelry artist, Mary Calladito. The length of the necklace measures around 31". Sturdy 114 grams.

Make Us an Offer- Due to the high demand of our items, many pieces sell quite fast. The most frequent email we receive are from buyers who waited too long to make us an offer and suddenly lost out because another buyer came in and purchased. Send us your reasonable offer today, we are flexible and you have nothing to lose! Ahéhee' (Thank you)

Financial assistance available! We are very flexible and will be happy to work with you, send us an email for more information!