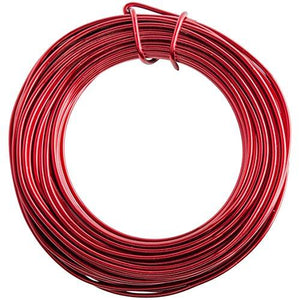 Red Enameled Aluminum Craft Wire

12 Gauge and Approximately 40 Feet

Durable Enameled Coating Won't Chip Like Anodized Aluminum

Soft Temper Wire is Shapeable

Perfect for Jewelry Making and Craft Projects

Color : Red

Size : 12 Gauge
WireJewelry Enameled Aluminum Wire has an exclusive coating that has been engineered to resist tarnishing, chipping, and peeling and to stand up to coiling, spiral making, twisting, wrapping, and other wire working techniques. They are designed to be flexible soft beading wires or strings in necklace, bracelet, or earring making. They can also be used in other crafts such as making artistic sculpture or metal mesh.