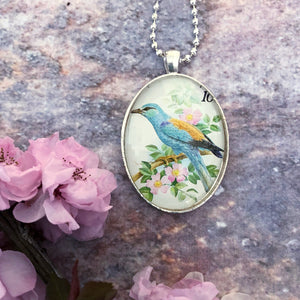 Gorgeous cottage chic bird necklace created with vintage 1990 Magyar Posta - Hungary - postage stamp, a romantic woodland bird pendant. Blue bird with yellow wings.

Unique gift idea, upcycled vintage postage stamp jewelry, beautiful cottage chic woodland bird pendant created with the original vintage 1990 Hungarian postage stamp.

This beautiful miniature work of art has a beautiful blue bird with yellow wings, in a blossoming tree, the soft pastels are just so feminine and pretty, and will compliment a vintage or classic romantic style.

Only the original vintage postage stamps are used, these are part of a legacy of love in my family, as the postage stamps carried letters to my grandmother from Eastern Europe to Australia over decades.

This pendant features the vintage Magyar Posta (Hungary) postage stamp issued in 1990.

Pendant measures 30x40mm, silver plated setting, with the stamp set under glass.
Ready to Ship on 24" silver plated chain, which easily trims to any shorter length.
You can find info about shipping costs, standard delivery times, as well as our store policies on our FAQ's page here