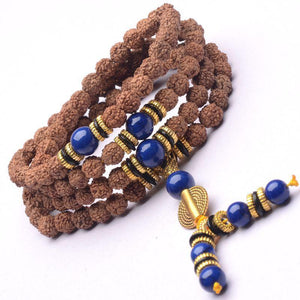 8mm 108 Wood Beads Tibetan Buddhist Prayer Rosary Meditation Mala Necklace

Beads Size: about 8mm Total Beads: 108
Since it is handmade, each of them might be slight differen
Also the screen color might be have some difference from real item
Elastic Cord.

Product description

A Japa mala or mala (meaning garland) is a set of beads commonly used by Hindus and Buddhists, usually made from 108 beads, though other numbers, usually divisible by 9, are also used. Malas are used for keeping count while reciting, chanting, or mentally repeating a mantra or the name or names of a deity. This practice is known in Sanskrit as japa.

Malas are typically made with 19, 21, 27, 54 or 108 beads. In Tibetan Buddhism, traditionally malas of 108 beads are used. Some practitioners use malas of 21 or 28 beads for doing prostrations. Doing one 108-bead mala counts as 100 mantra recitations, the extra repetitions done to amend any mistakes in pronunciation or other faults of recitation.

Malas are mainly used to count mantras. These mantras can be recited for different purposes linked to working with mind. The material used to make the beads can vary according to the purpose of the mantras used. Some beads can be used for all purposes and all kinds of mantras.

-----------------------Delivery-----------------------------------

Delivery orders can be WORLDWIDE! (USA, Canada, Europe, Australia and other countries)
Standard delivery time is 14-25 days
If your package do not arrive within 30 days( after we give you the tracking number), please kindly contact us and We'll will check it and find out the solution for you. Very rare cases.