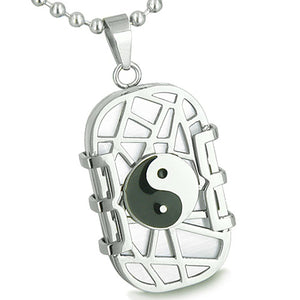 BRAND NEW - LOW QUANTITY IN STOCK - ORDER SOON




Best Amulets® Collection. Amulet Cosmic Balance Energy Yin Yang Dog Tag White Simulated Cats Eye Good Luck Charm Magic Powers Pendant 18" Stainless Steel NecklaceAmulet Cosmic Balance Energy Yin Yang Dog Tag White Simulated Cats Eye Pendant 18 Inch Necklace

Tag Charm Size: 30 X 20mm (1 1/4 inches long).

Made from White Simulated Cats Eyeto Show More Perfection and Beauty. Setting is made from Stainless Steel.

Ready to Wear with Beautiful 18" Bead Style 2.5mm diameter Stainless Steel Chain Necklace.

Comes with Branded Packaging
Exclusive, Unique, Magic, One of the Kind and Individual Amulet made from White Simulated Cats Eye and Stainless Steel. This Dog Tag Charm is Created as Cosmic Balance holding Yin Yang Circle in the Center bringing Positive, Good Luck and Magical Powers and Energies. This Yin Yang Amulet is Very Eye Catching and was made with Love and Care by our Designers. Amulet Meaning: YIN YANG - BALANCE. Symbol Yin-Yang represents the old ancient understanding of how things work. Yin and Yang are usually held in balance - One cannot exist without the other. For example, day cannot exist without night. The shape of the Yin and Yang sections of the symbol, actually gives you a sense of the continual movement of these two energies, Yin to Yang and Yang to Yin, causing everything to happen. The principle of Yin and Yang is the foundation of the entire universe. It underlies everything in creation. It brings about the development of parenthood; it is the root and source of life. Those who seek wisdom beyond the limits will retain good hearing and clear vision. Their bodies will remain light and strong. Ying Yang is a STRONG Symbol to Balance LUCK and Fortune for its Owner, Attracting Positive Energies from the Universe. Good Luck and Protection Powers of Simulated Cats Eye Stone: Simulated Cats Eye is Very Happy Stone. Stimulate intuition and enhance awareness. It is a grounding stone that provides a very effective protective energy. It amplifies Good Luck and Fortune. Simulated Cats Eye transforms negative thoughts into positive energy. Simulated Cats Eye brings happiness and serenity, along with optimism, generosity and confidence. It can enhance creativity and kindness. Traditionally, Simulated Cats Eye is believed to protect the wearer from evil spirits. Simulated Cats Eye dispels unwanted energy from the aura.
Package Dimensions:

3.2 x 2.8 x 1.4 inches

ASIN:

B009Y08DOM

Item model number:

Y8F-UNQ9TAGYANG