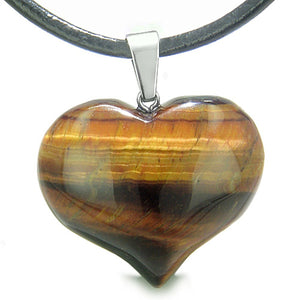 BRAND NEW - LOW QUANTITY IN STOCK - ORDER SOON




Best Amulets® Collection. Amulet Large Puffy Heart Lucky Charm in Red Tiger Eye Gemstone Healing Powers Pendant on Leather Cord NecklaceAmulet Large Puffy Heart Red Tiger Eye Gemstone Healing Powers Leather Pendant Necklace

Made from Natural Red Tiger Eye Gemstone. May or will have natural specks and inclusions.

Heart Charm SIZE: Approximately 30 X 35mm and 10mm Thick.

The Natural Properties of Mined Gemstones define the Unique Beauty of each piece. The Image may show slight differences to the actual stone in color and texture.

Ready to Wear with Beautiful Black Leather 18" Cord Necklace and Comes with Branded Packaging.
Very Special and Hand Carved Puffy Heart Lucky Charm Pendant. Comes Ready to wear with Black Leather Cord Necklace. Heart is Carved from Natural Red Tiger Eye Gemstone and Holds Metaphysical Powers of Evil Eye Protection and Healing Energies. Heart Symbol Myth and Legend: Heart symbol mainly represent Love all over the world. Magicians and Alchemists used the Heart symbols for incantations pertaining to matters related to love and romance. They were also used in rituals with a goal to strengthen relationships. The Heart has long been recognized across cultures as being a symbol for love, charity, joy and compassion. As a graphic representation of an inverted triangle, this symbolizes a vessel in which love is poured or carried. Consider the symbolism an upside-down triangle. The heart evolved from this initial symbol. Historically, the meaning of the heart symbol grew from its use as a religious icon. Ancient Egyptians called the heart symbol Ieb, believing it was the center of all consciousness, the center of life itself. It was the only organ not removed during mummification. Among Christians, it stands for charity, hope or forgiveness as is the case in the Sacred Heart. Generally speaking, the heart was the center of thought, emotion or the soul, the center of one's being. EVIL EYE PROTECTION and GOOD LUCK POWERS of TIGER EYE GEMSTONE: TIGER EYE is a Very Strong Stone. It Unites so many powers all together. It brings protection from the Evil Eye. Tigers Eye Stone is also used for protection against all forms of danger. It always been considered Strong TALISMAN in many cultures, especially against the Evil Eye. Tiger Eye was used by Aztecs to Protect their HOME from Negative Forces and Energies of their enemies. They Believed that Tiger Eye Stone will Keep their Home and Family Safe at all times. It was believed that a person possessing one could see everything, even behind closed doors.
Package Dimensions:

3.2 x 3.1 x 1.2 inches

ASIN:

B00BVPE5GI

Item model number:

PFH-TIGER-H