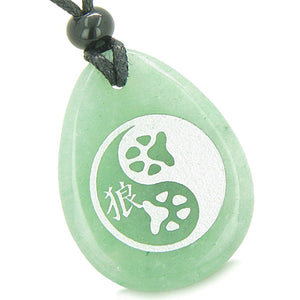 BRAND NEW - LOW QUANTITY IN STOCK - ORDER SOON

 

Best Amulets® Collection. Amulet Wolf Paw Yin Yang Magic Kanji Good Luck and Balance Powers Green Quartz Wish Totem Gem Stone Pendant NecklaceAmulet Wolf Paw Yin Yang Magic Kanji Good Luck Green Quartz Pendant Necklace

Only Gemstones are used and Each Amulet will be Unique and one of the Kind.

Amulet Totem SIZE: About 2 inches. All Art Work is Engraved on top of the Gemstone.

Colors and Texture may slightly vary being Lighter or Darker vary due to Natural Qualities of Gemstones.

Ready to wear with Cotton Waxed Cord which Adjusts from 15 up to 24 inches long and you may wear it any length you desire
This Necklace has Engraving of Very Special Wolf Paw Yin Yang Magic Kanji Amulet. This Symbol is Engraved on Natural Green Quartz Gemstone and engages Powers of Stone and Magic Symbol. This Gemstone brings Good Luck and Protection Powers and also makes it Good Luck Powers Amulet Totem. Amulet meaning: Wolf is Symbol of Protection, Courage, staying Wise and Strong in every situation. Having Unique Intuition and Survival ability makes Wolf to be one of the kind and transforms in to Magic Powers. YIN YANG - BALANCE. Symbol Yin-Yang represents the old ancient understanding of how things work. Yin and Yang are usually held in balance - One cannot exist without the other. For example, day cannot exist without night. The shape of the Yin and Yang sections of the symbol, actually gives you a sense of the continual movement of these two energies, Yin to Yang and Yang to Yin, causing everything to happen. The principle of Yin and Yang is the foundation of the entire universe. It underlies everything in creation. It brings about the development of parenthood; it is the root and source of life. Those who seek wisdom beyond the natural limits will retain good hearing and clear vision. Their bodies will remain light and strong. Ying Yang is a STRONG Symbol to Balance LUCK and Fortune for its Owner, Attracting Positive Energies from the Universe. This Lucky Gemstone Necklace is Exclusively made by our company. We created these Gemstones with Unique and one of the Kind Magic symbols, which will follow you every step of the way. Gemstone comes with Metallic Color engraving and makes it very special piece of jewelry. Each Lucky Necklace is also made from Natural Individual Gemstone Crystal and brings Good Luck, Fortune and Protection powers to its immediate owner.
Package Dimensions:

3.2 x 3.2 x 1.2 inches

ASIN:

B00ABQIOZ6

Item model number:

GDWN-WOLFPAW3