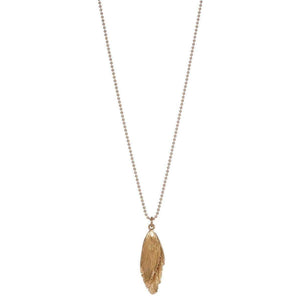 This women's raven small feather drop necklace has been made from 18k gold plated 925 sterling silver, featured in a gold colour and is from the brand Aurum by Gudbjorg. It measures 2.5cm(height) x 1.2cm(width) x 45cm(chain length). All the necklaces come complete in aurum by guobjorg packaging. The Aurum by Gudbjorg Raven Small Feather Drop Necklace - Gold features a detailed design that any woman will love. This necklace has been inspired by the ravens soft feathers and their mysterious manor reflecting the strength that Raven possesses. Its small design makes this perfect to wear with any attire, making you stand out from the crowd for all the right reasons.
KEY FEATURES
18K Gold Plated 925 Sterling Silver
2.5cm(Height) x 1.2cm(Width) x 45cm(Chain Length)
0.98inches(Height) x 0.47inches(Width) x 17.7inches(Chain Length)
Complete in Aurum by Guobjorg packaging.