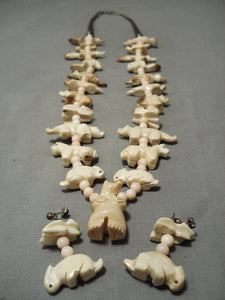 We are proud to offer this magnificent vintage Zuni Navajo silver necklace and earring set. You're not going to believe this absolutely incredible fetish necklace and earring set! One more fabulous than the next, these little handcarved, detailed cuties are the star attraction! The 1-1/2" x ¾" proud bear standing upright is the largest and begins the perfect balance and synergy of this piece – as the other 22 are actually 2 sets of 11 unique and special different animals! Wow! Just to name a few, these 22 include beaver, turtle, alligator, frog, fox, and horse! Each of the fetishes are separated with beautiful carved round pink shell beads as they then meet up with the 3" silver antler cones and clasp. This lengthy necklace comes with a matching set of post pierced dangle earrings of 2 fetishes and beads! From top to bottom, the earrings measure about 1-1/2" x 1". Be sure to check out all the pics! Sterling silver. The length of the necklace measures around 28". Sturdy 112 grams.

Make Us an Offer- Due to the high demand of our items, many pieces sell quite fast. The most frequent email we receive are from buyers who waited too long to make us an offer and suddenly lost out because another buyer came in and purchased. Send us your reasonable offer today, we are flexible and you have nothing to lose! Ahéhee' (Thank you)

Financial assistance available! We are very flexible and will be happy to work with you, send us an email for more information!