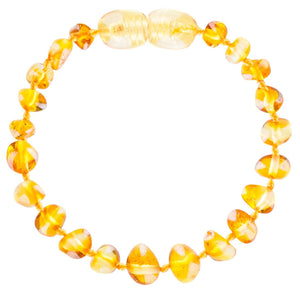 This amber anklet is a great amber alternative to the traditional necklace, or it could be purchased as part of a matching set of amber products. They consist of bud amber which is polished and round in shape. Your Bambeado will come with a natural woven pouch for storage along with a care and safety insert.
They are approximately 15cm in length, slightly longer than the bracelets for babies.
The amber anklet is an option for your baby to wear while you're sleeping. A baby sock can be easily slipped over the top to hold in place if needed.
Safety is of the highest priority at Bambeado and they have taken the following measures with all their baby and children's products.
 - Bambeado have submitted our products for testing have successfully passed all relevant safety standards. 
 - Each piece is fitted with a screw clasp so cannot easily be removed.
 - Each piece of amber is hand knotted so in the unlikely event the bracelet break only one piece of amber will come off.
Safety Information
Each Bambeado amber product is designed to be worn not chewed. Always supervise children when wearing the necklace or bracelet. Remove the necklace or bracelet when the child is unattended even if it is for a short time. Remove the necklace or bracelet while the child sleeps.
Contact us or seek medical advice if you have any concerns about your child's health and wellbeing. Each Bambeado is knotted between each bead meaning if the necklace is broken only one bead will come off. The special clasp will also release if too much pressure is applied.
Care Instructions
WASH IN WARM WATER BEFORE USE. Avoid exposure to chemicals, soaps and other cleaning products at all times. Take off while in the bath, shower, pool or swimming. To clean your Bambeado necklace or bracelet wipe the beads with a damp cloth or rinse in warm water. Dry with clean cloth. AVOID hot water and excessive heating / sunlight. This will make the beads & thread become brittle. WARNING SMALL PARTS - Supervise children under the age of 3.
Bambeado provides a 6 MONTHS warranty from the date of purchase. Proof of purchase is required for refund, claim or replacement. Faulty products can be sent back to Bambeado at buyer's cost via mail. To contact Bambeado please click 
Warning! Choking Hazard. Supervision is required at all times for children under the age of 3.