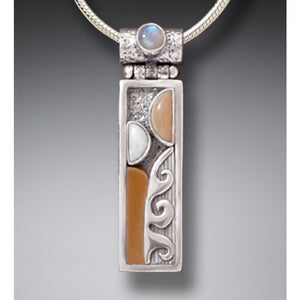 This tender carved ivory pendant inspired by ancient matriarchal cultures features earthen shades of fossilized ivory and an iridescent labradorite accent—the perfect gift for your loved one!
This Beloved carved ivory pendant is a tender hearted motif necklace inspired by ancient matriarchal societies that saw women as powerful figureheads. We closely associated the maternal instinct with women, and this pendant depicts a loving mother pulling her child close to watch over him. The two figures are connected through a certain bond, and we are given a snapshot window into this link between them.
A sterling silver wave motif seems to further connect the two, and it is difficult to see where the mother stops and the child begins. Labradorite—known as the magic stone of protection—accents this pendant. Labradorite is said to activate the inner eye, or a person's ability to expand their perception and see beyond.
The figures in this Beloved motif necklace are carved from varied shades of fossilized walrus ivory tusk. This prized organic material has lain in the earth for 500 to 3,000 years. Native peoples gather it after erosion or the tides give it back, and it is an important cultural and economic asset.
Minerals in the earth color the fossilized walrus ivory in varied shades from soft cream to rich cocoa. Our artisans ensure that your pendant will display its figures in contrasting shades, though the particular shades may vary from the fossilized ivory pictured here.
This pendant comes on an 18" sterling silver 1.1 mm box chain with a lobster clasp.
Width 3/8" x Height 1 3/8" (approx)
Please allow 10 days to 2 weeks for delivery.
SFL593N