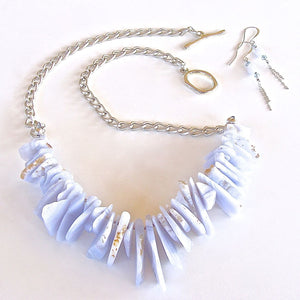 Striking slices of blue lace agate are showcased in this on-trend semi-precious set. This piece will add modern style to the blues and whites of the season. Full length 22".
Created for the Etherea Collection, this chunky light blue necklace set is bold and fresh. Its minimalist design showcases the gemstone in an unusual way. This a great set to add a dash of Spring color and dynamic style to any look.
This necklace would make an outstanding gift for a lucky recipient born in May as agate is its birthstone.
A length of zinc toned silver plate chain suspends slices of jagged lace agate in powdery light blue with white and translucent lace-like striations that are interspersed with minute silver-toned metallic beads. Dimension and texture are created by their sideways orientation. Some edges are flecked in brown exposing the outer layer of the gemstone from which the slices were cut.
The necklace closes at 22" with a streamlined sterling silver toggle clasp. Slices fall approximately 1.5".
Included in the set are beautiful light blue earrings of the semi-precious agate with Swarovski crystals and delicate sterling silver chain. Earrings fall 2" from silver toned ear wires.