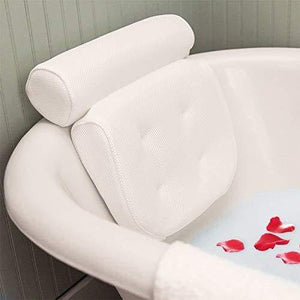 Brand: Essort
Color: White
Features:
Non-slip design: Bath pillow with suction cups, in which to make sure that you locate the position of the remain strong, let you enjoy comfortable head and neck support in the bathtub.
Relieve stress: The bath pillow is carefully designed to provide the highest level of comfort to relax your body. This portable bath mat uses the best ergonomic foam to eliminate neck fatigue. You can read it in the bathtub. It's a perfect way to relax. To avoid the suction cups grow bacteria then weaken suction, please dry them in time after used.
Applicable: Suitable for adults and children. It is a portable bath mat for adults and children. It is also suitable for all shapes and sizes.
Easy to install: Suckers can be firmly fixed to the tub. Simply suck up the suction cup and place it in the desired position. Press hard to hold all suckers.
To remove it, do not remove the pillow from the bathtub with force, but rather gently peel off the suction cups from side
Publisher: Essort
Details: Features:

It is light, soft and supportive with a contoured shape that cradles your head, neck and back no matter what type of tub you have.
Our special anti bacterial mesh material allows water & air to flow through the bath pillow for quick drying.
To prevent the growth of mold, we recommend you clean your pillow once every 2 weeks.

Specification:

Material: Polyester
Color: White, Blue
Size:38 X 36 X 8.5 cm
Weight: About 400g

Packing Includes:
1 x Bath Pillow

Usage:

1.Clean and dry the bathtub for best suction effect
2.Press the bath pillow on bathtub untille it is fixed on the poistion you need
3.Please keep sharp thing like hair pins, necklaces, bracelets, razors, scissors, nail clippers away from the pillow
4.It is recommended that rinsing the bathpillow and hang it in ventilated place to dryafter each bath, No machine wash. No tumble dry.
5.Please do not remove the pillow from the bathtub with force, but gently peel off the suction cups with your fingers to let air in to remove them.

EAN: 6459655257729
Package Dimensions: 15.0 x 13.4 x 2.8 inches