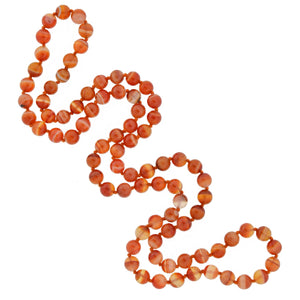 This carnelian necklace is a stylish estate piece! The simple design features a row of gorgeous natural carnelian beads, which have been hand strung on orange thread, and knotted in between. Each bead is smoothly polished for a glassy finish, which accentuates the lovely range of translucent colors, including vibrant orange, bands of white, spots of brown and black, and sections that are clear. The necklace slips easily on and off overhead, no need for a clasp. When worn, it drapes nicely and reaches far below the neckline, a perfect length for layering with additional beaded necklaces if desired. Beautiful in its simplicity, this versatile piece would fit effortlessly into any jewelry collection!
Measurements: The necklace measures approximately 31" in total length. Each carnelian bead is 8mm in size.
Condition: The overall condition of the necklace is excellent. Besides normal surface wear, there is no apparent damage to any of the carnelian beads, all of which are free of surface chips or scratches. The stringing remains secure and tight. The beads vary in color, and some display natural inclusions, which is normal for genuine carnelian stones and adds to their organic beauty.