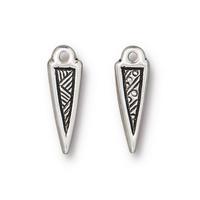 Description
Traditional edge and trim patterns create a tapestry of texture on this dramatic spike shaped drop, which features a different design on each side. Add some bold style to a necklace or earrings and stand out from the crowd! Looks great paired with the smaller Woven Dart charm.
Product Details
Part Number: 94-2013-12
Width (mm): 5.9 mm
Height (mm): 17.5 mm
Loop Inner Diameter (mm): 1.25 mm
Materials and Finish: Cadmium & Lead free Pewter, Fine Silver plate with antiqued finish
Country of Origin: USA
Qty:  5 Charms
If you a larger quantity than I have in stock, please email me and I can let you know when more are arriving - or special order more for you.  Also, I do offer a 20% discount when you special order wholesale quantities - Email me for details at .
TierraCast is high quality plated (fine silver, gold, copper and rhodium) lead-free culinary-grade pewter. It is MADE IN AMERICA! The detail on their beads and findings are incredible. I absolutely love the quality. I love the fact that I am supporting an American company and keeping jobs here. Give it a try, you won't be disappointed!
****ANY JEWELRY SHOWN IS TO SHOW SIZE AND DETAIL AND IS NOT INCLUDED IN THE LISTING*****