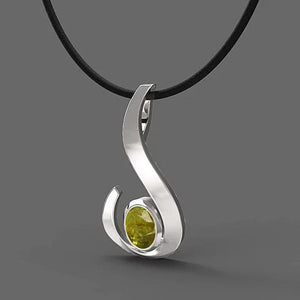 - 14 solid gold with natural mined gemstone
- Height: appx 24 mm
- Gold comes with gold plated 18" silver chain
- Custom gift box included.
Peridot is the birthstone for August and the 16th wedding anniversary gemstone.
Peridot is born out of olivine, a common mineral sourced from volcanoes. All peridot comes from either deep in the earth's mantle or from pallasite meteorites. 
Peridot opens, cleanses and activates the heart, which can help one to release old baggage. All burdens, guilt, and obsessions become cleared and a new psychological clarity and feeling of well-being begin. Peridot teaches that holding onto the past is counterproductive. It shows you how to detach yourself from outside influences and how to look to your own higher energies for guidance. It assists in moving forward rapidly in therapeutic situations. It also helps you understand your destiny and spiritual purpose, helping you attain your full potential. All in all, the stone sharpens the mind and opens it to new levels of awareness.
Anger is emotion peridot has been known to be very beneficial for. The stone calms the nervous system, helping to dissolve emotional tensions and bringing balance to the system. It actually attracts love and calms raging anger from within. It alleviates jealousy, resentment, and spite, and reduces stress.
A classic piece of everyday luxury and the birthstone for August.
This birthstone slider necklace would make a perfect keepsake gift. 
High quality 0.39 ct round Peridot gemstone is bezel set in a solid sterling silver setting.
Note: Package included the only pendant
This jewelry product is unique and can not find it somewhere else.
All Rights Reserved. US Trademark and Patent Pending.