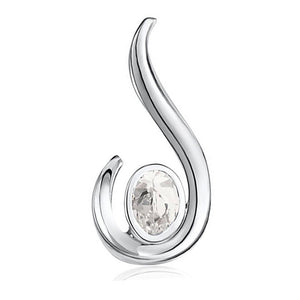 - 14 solid gold with natural mined gemstone
- Height: appx 24mm
- Gold comes with gold plated 18" silver chain
- Custom gift box included.
The alternate birthstone for those born in April is White Topaz. White Topaz is a gemstone that can make your thinking clear. It can organize your thoughts and increase your ability to understand things. Furthermore, it would receive a message from heaven and teach you what to do. It is a gemstone that can let you know your true meaning of life and create your own future smoothly. White Topaz would support your way for a bright future. 
White Topaz has the meaning and properties of increasing energy. It can wake up your potential when you need. This gemstone would support you strongly to make your dreams come true or achieve your goals. If you don't have anything in your mind yet, it would also help you to make your goals for the future clear. White Topaz has all kinds of power to make your dream into reality. 
This will aid manifestation and make the passage of achieving your desires easier and faster. 
This crystal carries the energy of truth, and its vibration will help you to have improved mental clarity.  It has a lovely energy that helps you to substitute negativity with love, peace, and joy. 
This is also a strong healing stone, as they will help those who are listless and who are feeling low and in need of extra energy.
His birthstone surrounds hers in an embrace of love, faith, and loyalty. Doesn't she deserve something unique? Meaningful and affordable.
Delicate and elaborate look.
It carries the virtue of unconditional love and friendship.

EXCELLENT GIFT: for birthday, anniversary, holidays, graduation, Christmas, Valentine's Day, Mother's Day, Thank You or simply "Thinking of You"
This jewelry product is unique and can not be found in somewhere else.
All Rights Reserved. US Trademark and Patent Pending.