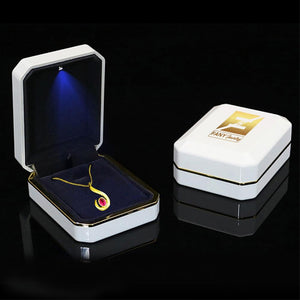 - 14 solid gold with natural mined gemstone
- Height appx 24mm
- Gold comes with gold plated 18" silver chain
- Custom gift box included.
Pink Tourmaline is known as the gem of empathy and creativity and is the birthstone for the month of October.
Pink tourmaline represents a love of humanity and humanitarianism. It is worn to promote sympathy towards others. It is an excellent stone for healers, therapists and counselors as it allows them to better listen to and understand their patients. It carries the virtue of unconditional love and friendship. In fact, it radiates the highest amount of love of all the different colored tourmalines. It's also meant for people who bear a special injury in their hearts as it encourages love and gently disperses emotional pain and dissolves disruptive feelings. It calms the negative emotions that often upset relationships. 
Pink tourmaline is also of great value to people that have difficulty dealing with fear, who have panic attacks or who are in need of something to help them heal their inner chaos and dread. It's a heart protector as well as an aphrodisiac. It teaches that it is safe to love and therefore instills confidence. It introduces the qualities of compassion and wisdom into your dealings with others. It also promotes flexibility of thought. 

His birthstone surrounds hers in an embrace of love, faith, and loyalty. Doesn't she deserve something unique? Meaningful and affordable.
Delicate and elaborate look.
It carries the virtue of unconditional love and friendship.

EXCELLENT GIFT: for birthday, anniversary, holidays, graduation, Christmas, Valentine's Day, Mother's Day, Thank You or simply "Thinking of You"

This jewelry product is unique and can not be found in somewhere else.
All Rights Reserved. US Trademark and Patent Pending.