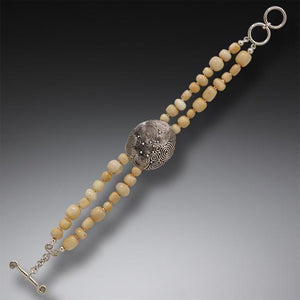 This earthy, organic-chic ancient ivory bracelet highlights our hand carved fossilized walrus ivory beads and a sterling silver center decorated with swirling spiral details. 
Fossilized walrus ivory beads in varied shapes/sizes
Sterling silver surf detailed center accent
Adjustable and secure sterling silver toggle clasp

Width 1" x Length (Adjustable) 7" to 7 1/2" (approx)
Please allow 10 days to 2 weeks for delivery. 
SF770BR
Our Ancient Breeze carved ivory bracelet combines Zealandia's signature swirling surf accent with earthy fossilized ivory beads in a variety of shapes, creating a wonderful adjustable piece that works with so many of your favorite looks.
The central sterling silver surf detail is hand worked with spirals that evoke an ocean spray and the currents. Jenny Byrne, Zealandia's lead designer, counts the ocean as one of her greatest artistic influences growing up in New Zealand. Its magic has continued to inspire during her worldwide travels, and these surf details show up in many of her designs.
The two strands of fossilized walrus ivory beads are made from walrus tusk that is 500-3,000 years old. The walrus tusk has lain in the earth for centuries, accreting a variegated rich caramel to cocoa hue. Its range of natural tones and rare quality make it a prized material in fine jewelry and artisan crafts. Fossilized walrus ivory is an important cultural and economic resource for the Native peoples who gather it for use in carving, sale, and trade.
Pair this walrus ivory bracelet with our Ocean Currents necklace for a complete set.