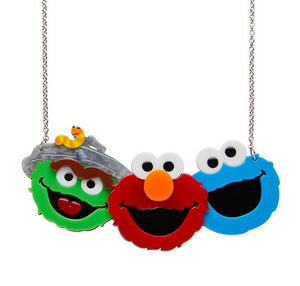 Friendly Neibours Necklace Sesame St  Erstwilder Imperfect
one with small dip out of side of mouth and one with small glue marks 
When you grow up with friends like these its easy to remember the good times. From spelling, counting, jokes and games these monsters are the epitome of fun. With solid resins that stand out from the crowd and hand-painted details, they show that growing up is optional.
Height 63 mm x Width 135 mm
All designs in the collection come packaged in custom Erstwilder x Sesame Street gift boxes
STORY
Blue, red, or green it's your friendly neighbours. One might be grouchy but he's never mean. They're tickled to meet you and might even share a cookie or two.
Dianna or Warwick of Rocklily Wombats personally checks every piece to ensure every brooch pin, earring or necklace is working well. Resin's are checket ensuring there are no obvious flaws. We also ensure item is packed well in the box for its journey to you. All orders dispatch either same day or the next working day depending on time of your order.  Your provided with the Australia Post tracking number. We add a charming postcard and blank photo card to each order and wrap nicely in Summer grass green tissue paper.
Each piece is hand assembled, hand painted and released in limited quantities. All designs are made from layered resin. As designs are produced from original illustrations and are hand assembled, hand painted and hand finished. There may be minor differences from piece to piece, making each as unique as the those who wear them. Metal components used in creating this piece include a beautiful and strong silver-plated steel brooch pin. Any earring posts, earring hooks, necklace chains and jump rings used for this piece are made from silver-plated steel. Designs come packaged in Erstwilder gift boxes.
Designed in Melbourne made in limited quantities in China. CARE Please be aware that resin is akin to ceramic and glass and therefore may be damaged if dropped or knocked. Keep your Erstwilder companion neatly tucked away in this box when not being worn, avoid contact with perfumes, lotions, water and excessive sunlight and you'll have a trusted friend for years to come