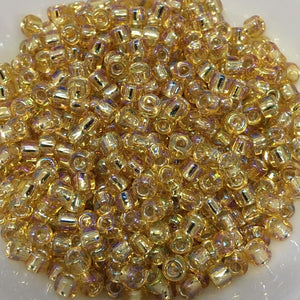 6/0 is rather large in the way of seed beads.  They make a great stand alone bead for a necklace or in any of your jewellery making, or you can use them as spacers instead of metal beads, between larger feature beads.  This size is also quite often the base bead for a rope for the base of an embellished project, when adding tendrils etc on an artist piece of jewellery or artwork.
** This colour may not be restocked by our supplier (or may be waiting on production).  Please don't start a project with this colour unless you are sure you won't need further quantities.
Size of Beads: 3.6mm. Type of Beads: 6/0 Matsuno.
Quantity per pack:  10 grams = approximately 150 beads.
Matsuno:  # 33r Gold Silverlined Rainbow