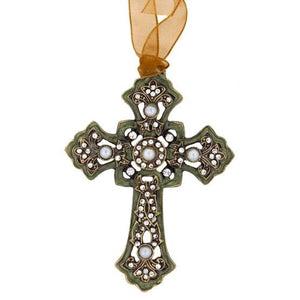 Gothic Green Pearl Cross with Ribbon.

This beautiful gothic cross pendant with green enamel, diamante and pearl decoration comes with a short gold organza style ribbon. Add your own chain or longer ribbon to turn it into a stunning necklace or gothic choker! Dimensions: 6.3 × 8.7 cm.
Material: Metal with Diamante and ribbon.