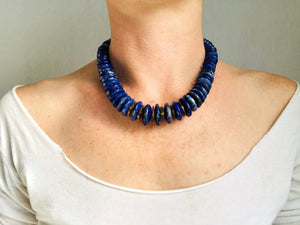 Necklace of vibrant blue graduated spheres of lapis lazuli punctuated by beautiful hand-worked slivers of Mexican amber. The lapis is natural and undyed and of a very high grade and beautiful cut.

18 inches long.

Here is some information about the metaphysics of Lapis and Amber if you are interested:

Lapis Lazuli reminds us of the power of the spoken word and is one of the best stones to use when opening and balancing the Throat Chakra. Lapis Lazuli helps to foster full verbal expression, and clears problems caused by "swallowing your tongue". Lapis encourages clear, truthful expression when sharing information with others, including an easier voicing/communication of anger.

A Third Eye Chakra opener, Lapis Lazuli connects the physical and celestial kingdoms. Deeply peaceful, Lapis provides wisdom into mystical realms and connection with spiritual guardians. Lapis Lazuli can be a key to spiritual attainment. Lapis also protects against psychic attack, shielding negative energy and returning any negative vibrations to their source. Lapis Lazuli will enhance dream work and spiritual journeying.

Physically, Lapis Lazuli helps with the immune system, thyroid and nervous system. It can alleviate headaches, migraines, fevers and pain.

A powerful yet gentle healer and cleanser, Amber draws out and transmutes negative energy of all kinds on all levels. Amber aids in physical self-healing, emotional healing of depression, and environmental clearing. Amber opens and cleanses all of the Chakras.

Highly protective, Amber also aids in the manifestation of ideas to reality. The life force trapped within Amber promotes fertility, and its protective and environmental clearing properties make it a good stone to use to prepare a healing or birthing room. Use Amber with the Solar Plexus Chakra to increase confidence, mental clarity, and creative self-expression.

Physically, Amber helps with the organs of elimination, including the liver, kidneys, bladder, and stomach. Also a stone of the Throat Chakra, Amber can help with laryngitis and goiter.

Note to INTERNATIONAL BUYERS: If the shipping quote seems too high please feel free to contact me for a quote. Sometimes they calculate them too high. I don't charge any surcharge over the actual shipping.