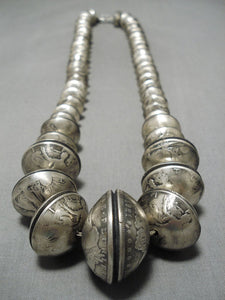 This is a tremendous Navajo coin necklace. This is the biggest and heaviest coin necklaces we have ever collected. This piece contains outstanding graduating coins with the largest coin measuring around 1-1/2" in diameter. Sterling silver, marked. Signed by Navajo artist, Harry Joe . The length of the necklace measures around 25". Sturdy 438 grams.

Make Us an Offer- Due to the high demand of our items, many pieces sell quite fast. The most frequent email we receive are from buyers who waited too long to make us an offer and suddenly lost out because another buyer came in and purchased. Send us your reasonable offer today, we are flexible and you have nothing to lose! Ahéhee' (Thank you)

Financial assistance available! We are very flexible and will be happy to work with you, send us an email for more information!