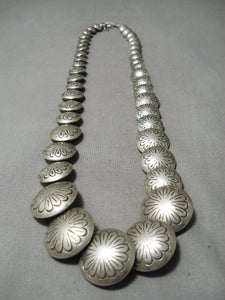 This is a museum quality vintage Navajo all silver bead necklace. This outstanding piece contains a beautiful collection of graduating silver beads. This is one of the finest silver bead necklaces we have collected. What makes this necklace so incredible is the weight as the beads are thick and heavy. It is also very rare to come across silver bead necklaces where every single bead is beautifull hand stamped, usually it's just the bottom half of the necklace that containt the stamped beads. This necklace every single bead is hand stamped. The bottom, largest silver bead mesures around 1-1/8" in diameter. This necklace contains a beautiful traditional silver clasp. Sterling silver. Cir. Mid century . The length of the necklace measures around 22". Sturdy 144 grams.

Make Us an Offer- Due to the high demand of our items, many pieces sell quite fast. The most frequent email we receive are from buyers who waited too long to make us an offer and suddenly lost out because another buyer came in and purchased. Send us your reasonable offer today, we are flexible and you have nothing to lose! Ahéhee' (Thank you)

Financial assistance available! We are very flexible and will be happy to work with you, send us an email for more information!