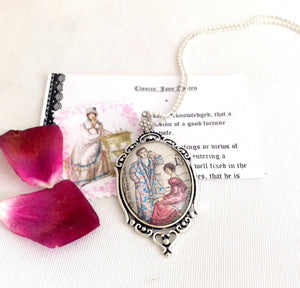 The perfect gift for Jane Austen fans - Janeites - and lovers of classic literature, handmade necklace created with UK 1975 postage stamp, Jane Austen's Mansfield Park characters Henry and Mary Crawford, deluxe pendant with rhinestone encrusted bail presented in a beautiful vintage postage branded pendant box.

Size: the original vintage postage stamp with charming romantic postage cancellation marks has been set under glass in the ornate bezel, which is silver plated. The artwork measures 30x40mm, the ornate bezel is 35mm wide, and approx 70mm long including bail.
Ready to Ship on 24" silver plated ball and chain necklace, this can easily be trimmed to shorter lengths.


You can find info about shipping costs, standard delivery times, as well as our store policies on our FAQ's page here