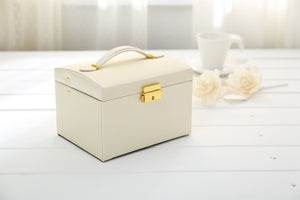 Limited Time only!!!!

FREE SHIPPING on this product for VICTORIA - NEW SOUTH WALES - SOUTH AUSTRALIA - QUEENSLAND


(Also may include other states - enter details at checkout for shipping quote)

Tracked shipping throughout purchase

12 Month Warranty For Peace Of Mind

Store your precious jewellery in this magnificent white case from Randy & Travis Machinery. Filled with padded storage compartments and trimmed with gold-tone metal, this pristine white jewellery box will complement your dressing room décor while securely storing your favourite pieces.

Lined with velvet, this box protects your most delicate jewellery inside its soft interior. Abundant storage space provides room for all your favourites, while its luxurious faux snakeskin exterior makes it easy to clean and care for. Delicate yet sturdy gold-tone knobs allow you to open each compartment easily.

The lid opens to reveal a mirror and two snap-on straps to organise pieces that might otherwise get tangled. The top compartment features cushioned pillows designed for rings, earrings, and other small items, as well as a small box to hold your tiniest jewels.

The first drawer has no dividers so it can accommodate even your largest jewellery. Divided into two sections, the second drawer helps you organise your jewellery by category so you can find what you need easily. The bottom drawer, like the first, is undivided, providing excellent storage space for your larger pieces.

Designed for travelling as well as home storage, this lovely jewellery box features an easy-carry handle so you can take your favourite eye candy with you wherever you go. It locks securely so you never have to worry about someone stealing your favourites.

Your jewellery is precious. Store it in a box worthy of its beauty. Indulge yourself with this luxurious jewellery box today—and buy another for a friend.

Features and specifications:
Material: Top-quality faux snakeskin pattern, leather and velvet
Dimensions: 17 x 12 x 12.5 cm
Colour: White with gold-tone metal trim
Compartments: 4, some divided
Drawers: 2
Handle, lock, and mirror included
Accessories: 1 key
Note: Accessories not included - you will receive Jewellery Box Only.
Package Content:
1 xJewellery Storage Box