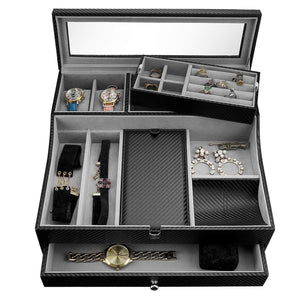 Brand: Hauterow
Features:
HOME ESSENTIALS FOR THE MODERN MAN: This classy valet tray is a stunning display case. Organize, display, and protect your watches, rings, keys, phone, wallet, change, money clips, passport, or any other item.
DISPLAY YOUR VALUABLES WITH CLASS: Featuring a modern design with a sleek black color, our dresser organizer for men really means business. With Carbon Fiber construction and PU leather elements, this valet is both sturdy and elegant.
ORGANIZE THE PERFECT DAY: With a watch organizer, ring and smartphone compartments, and a hidden compartment under the ring organizer, as well as a drawer with extra storage space- our valet tray has room for everything. Have everything you need to conquer the day waiting for you, neatly organized and ready to be worn.
SMART DESIGN: Measuring 13.5" x 11.75" x 4.5", there's plenty of storage space. It can be fitted into a traveling bag to keep all your accessories organized. It's the perfect choice for any man's bedroom, office, or bathroom.
A GIFT BOUND TO IMPRESS & BE USED: Many times you don't even realize how many stuff you leave lying around, quite often being lost right when you need them the most. Our valet tray is so convenient that once used, you will never go back to living without it. Give the perfect birthday, Father's Day, or anniversary gift.
Publisher: Hauterow
Details:
Hauterow Jewelry Valet Tray For Men- The Elegant Dresser Organizer Every Man Needs
Sometimes, the simplest solutions make the biggest differences in our lives.
The Hauterow valet tray is both elegant and practical. Keep all your valuable items protected and organized.
Lush & Highly Versatile Design
Sporting a timeless black color, our organizer box fits with any décor.
Place it in your bedroom, bathroom, or at the office, and make your life rich in both style and convenience.
Spacious & Packed With Storage Space
With 13 compartments on top, a hidden compartment under the ring organizer, as well as extra storage space with the drawer- you will be able to neatly organize all your precious items.
A dedicated spot for your rings, watches, and your smart phone, it adds every-day comfort. The tray itself also serves as a sleek display case.
Size: 13.5" x 11.75" x 4.5"
A Gift For The Best Men in Your Lives
No matter the occasion, whether you're looking for something unique for your father, friend, brother, son, or husband- we have you covered.
The Hauterow valet tray is an addition that becomes an integral, daily habit; once a man gets a taste of, he will never go back to living without it.
Light up Father's Day, Valentine's Day, any Birthday, or Anniversary.
Click Add To Cart Now!
UPC: 737787206393
EAN: 737787206393
Package Dimensions: 16.0 x 10.5 x 6.9 inches