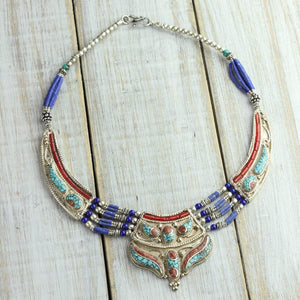 Amazing one-of-a-kind Tibetan necklace handmade by Karma Dolma in Nepal.  This simply magnificent Tibetan necklace features strands of lapis beads that make their way to 3 beautiful silver plated brass focal pieces inlaid with turquoise and coral.
Lapis is said to promote self awareness, enlightenment and open the mind to all possibilities.  It is also considered to be a powerful stone when used for mediation.
Coral is known as the stone of passion and can be used to reconnect with nature and attract love and prosperity. Coral is also connected with bringing inner peace, strength, and understanding of purpose.
Necklace measures approximately 18 inches around with an S loop closure.  Handmade in Nepal.