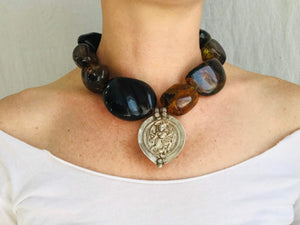 This is a stunning necklace of large hand shaped pieces of Chiapas amber. These are gorgeous pieces of amber beautifully worked into beautiful organic shapes. The clasp is sterling silver and it is strung on thick silk cord.

The necklace weighs 174g and measures 18" long.

The pendant itself measures 85mm x 60mm

This amulet is probably from the late 19th or early 20th century, solid, high grade silver. A pendant from Rajasthan, northern India of the Bhairava form of Shiva. This Amulet is in the shape of the yoni.

Bhairava is a form of the God Shiva. He is also called as protector, as he guards the eight directions of the universe. In all Hindu temples, there will be a Bhairava idol. This Bhairava is the protector of the temple. In Shiva temples, when the temple is closed, the keys are placed before Bhairava. Bhairava is also described as the protector of women. He is described as the protector of the timid and in general women who are timid in nature.

Bhairava means terribly fearful form but its also known as one who destroys fear or one who is beyond fear. The right interpretation is he protects his devotees from dreadful enemies, greed, lust and anger. Bhairava protects his devotees from these enemies. There is also another interpretation. Bha means creation, ra means sustenance and va means destruction. Therefore, Bhairava is the one who creates, sustains and dissolves the three stages of life.

A sacred, powerful charm, it is believed to offer the wearer protection. These amulets are often rubbed as a means of worship and to invoke the deity. This one has been well loved and carries the devotional shakti of previous owners.