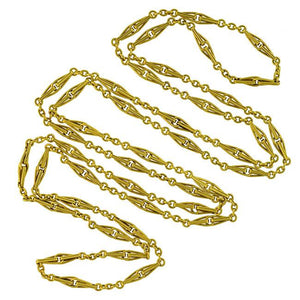 An absolutely exquisite gold chain from the late Victorian (ca1900) era! Extremely generous in length and heavy in weight, the chain is comprised of ornate 18kt yellow gold links, which have a simple and beautiful design. The interlocking elongated teardrop links alternate with sections of chain to form a flowing necklace, which can be easily doubled or tripled when worn. The chain does not have a clasp however, because of it's extensive length, the piece slips over your head to be worn and could easily be doubled or tripled. There are several links that are stamped with the French owl hallmark, indicating that the chain was an import into France from a non-treaty country but met minimum French standards. This fantastic chain would make an essential everyday addition to any antique jewelry collection!
Measurements: The entire length of the chain measures 52" long. The interlocking links measure a little less than 7/8" long and 1/4" wide. The overall weight of the chain is 69 grams.
Condition: The overall condition of the chain is excellent. Besides normal surface wear, there is no apparent damage to the gold links which remain in excellent condition.