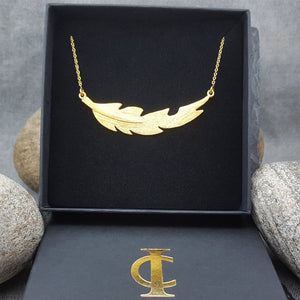 LEAF GOLD NECKLACE
HIGH QUALITY 18 CT GOLD ON BRASS
Soft Brushed Finished Look.
We believe that Nature is the best universal artist.
Our collection of leaves is inspired by tropical landscapes.
These beautiful leaf Necklace is finished with a soft brushing. 
This necklace elegantly lays on the neckline, It is very comfortable and lightweight and is made to impress on any occasion.
Animals, insects and plants are our models to represent pure organic beauty.
Pending Leaf length 6 cm and chain 17 inches with extension to 19 inches.
Please note that the earrings in one of the pictures are not included with the necklace. They are part of the same product line that you can find in our beautiful Inkayka Collection.