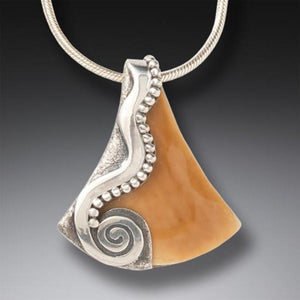 Our Life Stream fossilized walrus tusk necklace takes its winding waterway motif from the natural spiral patterns found in nature and sets it against a richly hued background.
Hand carved fossilized walrus tusk background
Sterling silver stream detail and setting
This pendant comes on an 18" sterling silver 1.1 mm box chain with a lobster clasp.
Width 1" x Height 1 1/4" (approx).
Please allow 10 days to 2 weeks for delivery.
SF815N
This carved ivory pendant is influenced by the natural eddies and patterns found in running water. The entire piece speaks of movement from the sterling silver stream set with an eternal spiral design to the pendant's overall paddle shape carved from fossilized ivory. Its uncomplicated details contribute to a unified design that is wonderfully wearable in soft, organic tones.
The fossilized walrus tusk in this carved ivory pendant is between 500 and 3,000 years old. Fossilized walrus tusk spends most of its long life buried underground where minerals color it the range of gorgeous tawny hues that make this material so desirable in fine jewelry and hand crafted art works. It is an important cultural and indigenous economic resource to the Native peoples who gather it for carving, sale, and trade.
Pair our Life Stream fossilized walrus tusk necklace with our Life Stream earrings to create a complete set!