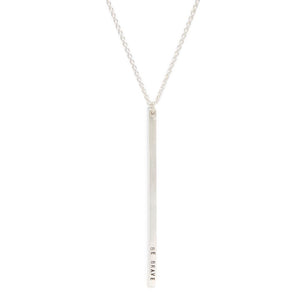 description
Effortlessly elegant, the Long Bar Necklace is the perfect layering piece.
The slim bar creates the illusion of elongating the neck and décolletage. We love layering this necklace with a the for a subtly sexy look. Each letter is individually stamped by hand, making each necklace special.
details
+ long bar measures 2" long (48 mm) x 1/16" wide (2.25 mm)
+ on model : 20 & 22" necklace length
+ s hook closure
+ handmade in our Nashville, TN studio
availability ships in 3 - 5 business days
personalized messages ship in 7 - 10 business days
personalization
52 characters maximum (including spaces). Only teeny-tiny uppercase block font available. Only uppercase letters, numbers and limited punctuation listed here are available:
ABCDEFGHIJKLMNOPQRSTUVWXYZ1234567890!%&()_-=`\;'|:",.?/+#~♡
rush your order
personalized orders typically take 7 - 14 days to be made. select this option to have your item made in 1 - 2 business days
text darkening
hand stamping creates a deep impression in the metal. the blackener is a surface treatment that fills in the stamping to give contrast to read the messages. choose no text darkening for a more subtle appearance.
need help?
contact our to help with your message.
sizing
need help with finding the right length?
we made a guide with tips and tricks for sizing
or
metal
sterling silver is solid sterling silver throughout. Never plated or silver-filled. By nature, sterling silver will tarnish over time.
gold + rose gold plated 18k gold and rose gold plated over brass. Our process of plating is much more durable, as we begin with a rhodium barrier - a white metal which provides a strong, durable layer for the gold plating to bond. The gold layer is 5 microns thick, which is more than double the standard.

christina kober jewelry does not contain nickel.