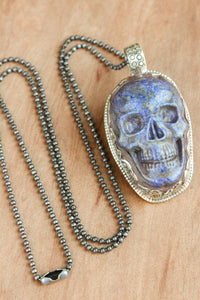 Completely unique, one-of-a-kind hand carved skull pendant necklace is made from lapis stone combined with pyrite, giving it a rare and distinctive depth and luster.  This exclusive necklace is set in a hand stamped silver plated brass setting and strung on a semi-matte gunmetal chain.  
Pyrite is an Earth element, it resonates with Fire energy, symbolizing the warmth and lasting presence of the sun and the ability to generate wealth by one's own power.  It is masculine in nature, a stone of action, vitality and will, and taps into one's abilities and potential, stimulating the flow of ideas.  Lapis is a powerful crystal for activating the higher mind and enhancing intellectual ability.  It stimulates the desire for knowledge, truth and understanding, and aids the process of learning.  It is excellent for enhancing memory.
The skull in Buddhism is a symbol of impermanence and is a powerful reminder to be here now!
Necklace measures about 36 inches around.  Pendant is approximately 2 1/4 inches tall from top of bale, about 1 1/4 inch wide, and about 1/2 inch thick.