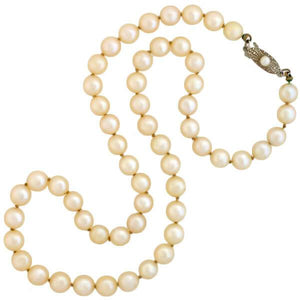 Japanese jeweler Komichi Mikimoto made his everlasting mark on history as the inventor of cultured pearls. His discovery that lustrous pearls could be created by introducing a small particle into an oyster changed the face of the jewelry world forever. The first man-made pearl was cultured by Mikomoto in 1893, after years of experimentation. In 1899, he opened his first pearl boutique in Ginza, Tokyo, and by the 1920s and beyond, his beautiful pearls were becoming a global phenomenon. Now, over a century after his work began, the legacy of Mikimoto lives on through the beautiful pieces created by his international company. The epitome of classic beauty and feminine elegance, Mikimoto cultured pearls set the standard for quality and are worn around the world today. In particular, vintage and antique Mikimoto pieces have become very collectable!
This classic necklace from the late Art Deco era (ca1930s) is a wonderful example of Mikimoto cultured pearls! This delicate and feminine piece features a single strand of 55 cultured pearls, which have a soft creamy white color and wonderful luster. Each pearl is strung on ivory colored thread, and hand knotted in between. The necklace fastens with a gorgeous sterling and pearl hook clasp at the back. A single delicate pearl adorns the center of the decorative clasp, and stamped on the back is an "S" and the Mikimoto "M" hallmark. Perfect for everyday wear or special occasions, this elegant necklace would make a perfect addition to any collection!

Measurements: The necklace measures 16" long. Each pearl measures approximately 6mm in size.

Condition: The overall condition of the necklace is excellent. Besides normal surface wear, there is no apparent damage to any of the pearls, which are all intact and securely strung. The clasp is secure and in good working condition. Some of the pearls have minor surface imperfections, which is normal for cultured pearls, and does not detract from their beautiful appearance.