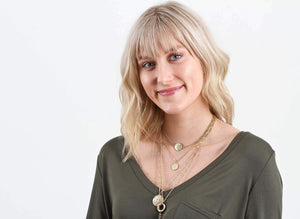 Looking for a new statement necklace?! We found the right one for you with this trendy Multi Layer Gold Coin Pendant Necklace! This stylish Pendant Necklace features four gold metal chains, consisting of a 6", 8", 11", and 13" chains, allowing you to have a beautiful layered necklace. This necklace's chains include contrasting linked chains along with dainty linked chains that provide other subtle details to this gold accessory. To accent the gold chains, this fashion-forward necklace has a gold coin at the end of each chain as well as a gold metal ring on the longest chain. This necklace clasps together with a lobster claw clasp, and the connection offers 2" of expansion if needed. Easily pair this necklace with so many outfits thanks to the gold coloring and simple design. Add this layered piece to your jewelry collection today for a stand out look! The Multi Layer Gold Coin Pendant Necklace will have you wanting to wear all of your gold accessories this coming season.
Features of the Multi Layer Gold Coin Pendant Necklace LSN4182-WG-CR:
Women's jewelry
Fashion accessory
Pendant Necklace
Statement Necklace
Layered
4 layers of chain
13" Necklace
6", 8", 11", and 13" chains
Coin pendants
Metal ring
Contrast linked chain
Dainty linked chain
2" Expandable chain for clasp
Lobster Claw Clasp
Gold jewelry
Lightweight
Not suitable for children under age 12
Designed in U.S.A.