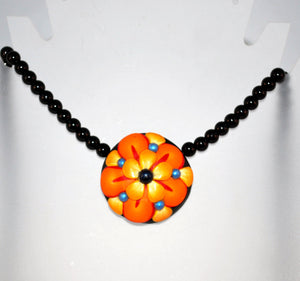 Handmade Necklace for Women Featuring a Handmade Flower Pendant from Polymer Clay 
Type: Necklace

Size: 24-inches long 

Color: Red, yellow, orange and black

Materials: Polymer, glass beads

Blue Morning Expressions
Crazy Daisy

You won't see another necklace like this one, so you will have the only one like this. This makes you stand out in the crowd.
About this beaded necklace 

This 1-inch or so diameter pendant is a layered petal flower that has been mounted on a black base and had tiny blue Czech beads set around the center. The center is a navy blue Swarovski crystal pearl. The top of the pendant is domed and has been set upon a flat base bead that has been drilled side to side. I hand made this focal bead as part of a magazine project, so it has been featured as part of a product review. It was featured in an issue of The Polymer Arts.

The pendant has been strung with black glass 6mm beads. It is finished with a silver plate toggle clasp and a handmade with love charm. The necklace is 24-inches long. The focal bead is a bit more than an inch in diameter.
Looking for other style necklaces? Check out my other necklaces .