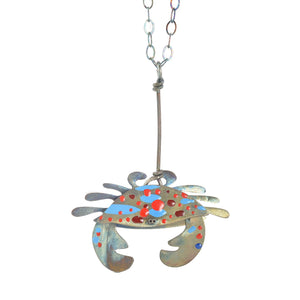 Augustine Crab Necklace by Gabrielle Gould

This sterling silver necklace is so fun and kinetic! The crabs claws move side to side. 



Chain Measures 19", Pendant 1.25"

 Handmade in St. Augustine, FL

My jewelry is an interpretation of the natural feel of coastal Florida, where I live. It is a figurative representation which depicts the environment of the south with feathers, birds, and shells from the beaches or scrubby dune hammock.
Inspired partly by the ornamentation of indigenous people, my use of feathers is comparable to today's prevalent use of gemstones. The color, texture and size of each of the feathers is carefully considered when I create a one-of-a-kind feather neckpiece. The time-consuming process of organizing, trimming, and lastly hand-wrapping the feathers onto the neckpiece is a small part of a fulfilling endeavor. By fabricating in silver and gold, I create an "armature" upon which I add feathers. These metal forms are linked, strung and/or woven to allow movement with the body-- my goal being to create a textile-like feel.
My figurative bird imagery is also from the southern landscape---mainly coastal Florida. Each bird pin is based upon a species common to this area. Like the feather pieces, all of the birds are made in silver yet, I often add high karat gold, feathers, and even oxidization to them.
Ultimately, I want my art to convey harmony in design, grace in execution, and a sense of elegant simplicity.
We are happy to accommodate special orders. Please contact us with the item you are interested in and we will get back to you.