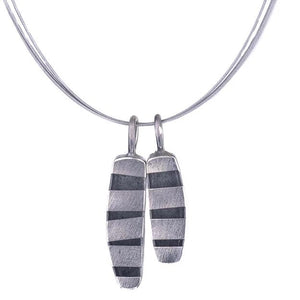 Double Boardwalk Necklace by Terri Logan

Two boardwalk motif oxidized sterling silver pendants hangs from oxidized silver 3 chain cable.

Longest Pendant measures approx. 1.25"
Chain measures 14".

Handmade in Richmond, IN
Terri Logan states, "My work is based on formal concerns, design and function. I make jewelry because of the intimacy the function allows. I use metal and stones (river rocks) because they are inherently strong materials. The combination of metal and stone allows me to integrate the industrial and organic elements of our world. These materials are rich in their historic value, and intrinsic to our growth as a civilization; their abundant character, separate or in relation to each other, offers me infinite possibilities as a language."
We are happy to accommodate special orders. Please contact us with the item you are interested in and we will get back to you.