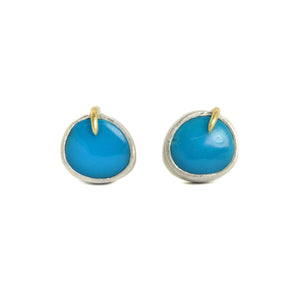 Lunar Sleeping Beauty Turquoise Vanity Stud Earrings by Hannah Blount

Two Sleeping Beauty turquoise spheres are contrasted by a single, 14k gold prong-- like a shooting star in motion, flashing past a full moon. The everyday nature of this vibrant studs is offset by their organic silhouettes and one-of-a-kind color.

Sleeping Beauty turquoise studs. Approximately 9x9mm. Available in bright silver with 14k gold.

Handmade in Boston, MA



Hannah has been creating jewelry since she was a young child. The daughter of a fisherman and a seamstress, Hannah was raised in the tradition of hand skills, hard work, and dedication. In their weathered island home, she and her six siblings learned how to entertain themselves amidst the chaos that comes with such a large family. The dingy fishing paraphernalia that littered their backyard was a playground of inspiration: gritty snapshots of beauty against the clean backdrop of their hometown of Nantucket. These familiar moments inspired her to create beauty of her own.

With the help of a bead book she was given as a gift, Hannah started making simple earrings and necklaces for her friends and family. Over time, her basic designs evolved into sophisticated metalwork. She graduated from Umass Dartmouth in 2008 with a bachelor's degree in Jewelry/Metals. Immediately upon graduating, Hannah built up her studio and began Hannah Blount Jewelry.

We are happy to accommodate special orders. Please contact us with the item you are interested in and your ring size and we will get back to you. Please note, because of the fluctuating cost of precious metals - the cost of your special order may differ from the cost of the in stock item listed here.