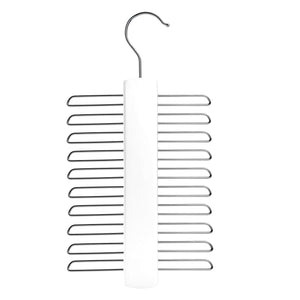 Description
The range of Wooden Tie Hangers from Nicholas Winter offers an innovative and practical storage solution for all your essential dress accessories, with a range of colours to perfectly suit your style.
A chunky wooden frame offers the perfect blend of lightness and durability, coupled with a robust chrome hanging hook that is sure to see you through several seasons to come. Each side of the frame has been adorned with 10 stiff iron hooks, allowing you to store and organise up to 20 ties, belts, scarves or necklaces.

The perfect gift for a new homeowner, the celebration of a new job or promotion, or for anyone simply looking to take their wardrobe game to the next level.
Features
Durable Wooden Frame - Optimum blend of lightness and strength
20 Chrome Wire Hooks - Sturdy housing for all your ties, belts, scarves and jewellery items
Space-Saving Design - Perfect for smaller wardrobes (or large tie collections!)
Dimensions
Length: 12ml
Width: 150mm
Height: 300mm