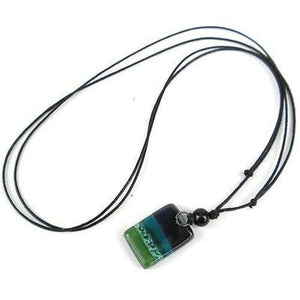 Handcrafted in Chile, this necklace celebrates the colorful art of fused glass. The cord adjusts from 16 to 32 inches, and the pendant measures 3/4 of an inch long.
Meet the Artisans
Calypso Chile produces beautiful, handcrafted glass products ranging from jewelry to bowls and decorations. 

All of Calypso's pieces are handcrafted by glass artisans with over 20 years of experience. Each product is made from a combination of saved window glass and recycled bottles that are picked up and cared for by trash collectors in Santiago, Chile.

Calypso Chile is a woman-owned, fair trade business that operates from the family home. 

After dabbling in various types of crafts, Marcela found a particular talent for glass making, building a sustainable business to support her family as well as the families of others who she has trained to help make glass products, specializing in fashion jewelry. 
As a member of the World Fair Trade Organization, Marcela operates the business under the auspices of fair trade, ensuring that all of the artisans and craftspeople are paid a fair price for their work.
"Calypso believes in Fair Trade as a basic human right, so all of our collaborators are treated with the respect and fairness that they deserve. Calypso creates things from glass and turns it into a passionate lifestyle."
We are pleased to partner with Calypso Chile through .