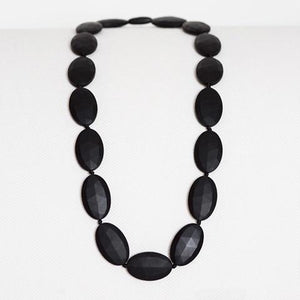 Fashionable, light weight and child-friendly jewelry does exist. 
This Australian design diamonds necklace is feminine and perfectly practical in every way. From elegant to edgy, this necklace can be styled however you please. 
Knotted between each bead with a breakaway safety clasp for added security. Ideal as teething/nursing beads as the pearls are gentle on gums and emerging teeth. The silicone beads do not absorb odours or support growth of bacteria, mould or fungus. Easy to clean with warm soapy water or even dishwasher safe up to 65 degrees.
Weight: app. 100 g
4 cm x 2.5 cm flat oval beads
Length: app. 35 cm hang, 75 cm end to end.
Available in different colours and styles. These diamonds also make a beautiful gift.
Made using 100% non toxic food grade silicone. Free of BPA, phthalate, lead, PVC and latex. European CE Mark & safety standards approved.
Please note that the breakaway safety clasp is not chewable. Chewing might break it or compromise its safety. Peachtree jewelry is not a toy and not intended to be worn by babies. Please use under adult supervision at all times.